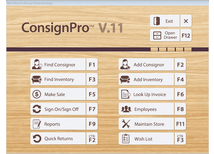 Click for Guided Tour!
ConsignPro has been the industry's favorite software choice since it was first introduced in 1996. Much like our new website, our software is the most complete in the business. Packed with great features and an innovative design, you will love using ConsignPro to manage every aspect of your business. If you don't agree, you can return it for a full refund!
We'd like to invite you to learn all about ConsignPro, and our company, by visiting all of the links on our site. You'll discover that we have more features than most of our competitors, enjoy our user-friendly screens, and enjoy using our "Configurator" to build a system that's perfect for your business!
When you're done looking around, please download our free demo and then visit our secured order page to learn all about our pricing and our discounted packages! We truly believe that ConsignPro represents the best value for your software dollar, as do our current customers – who are all unpaid references!